Ever felt over-shadowed by someone? Had that slightly inferior feeling? I suspect that is Bratislava's modus operandi, sandwiched as it is between Prague, Budapest and Vienna, yet whilst it lacks their immediate beauty it has a charm all its own when you scratch beneath the surface.
I was there for a Grasshopper & Anemone course taught by Europe's leading practitioner and the city as a backdrop was an added bonus. From discos hidden in multi storey car parks to Soviet style bridges that looked more like UFOs this is a city with a cool all its own. The old town is picturesque, but it's the contemporary art scene, the music and the underground creatives that make Bratislava really interesting.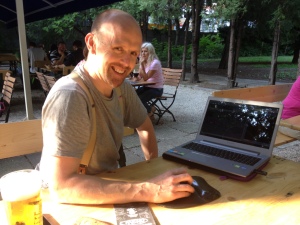 The course was exceptional too – exploding my design expertise and really widening my application. A great group, with really insightful course tutors!